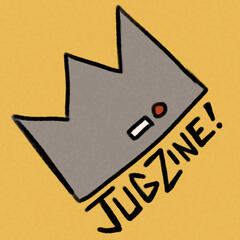 JugZine: A Jughead Jones Fanart Collection
A Jughead Jones Charity Fanzine!
All proceeds will be donated to the Regional Food Bank of Oklahoma
About
We are a non-profit zine inspired by the Archie Comics character Jughead Jones! We do not own this character and this is entirely a work of fanart with purpose to donate to the Regional Food Bank of Oklahoma.
The Regional Food Bank of Oklahoma is the choice in charity for a multitude of reasons which include the current COVID-19 pandemic causing a higher need for donation, I (the mod) have a history with volunteering there for more than 10 years, and because Jughead as a character loves food!
A Fanzine (pronounced ZEEN) by definition is a magazine, usually produced by amateurs, for fans of a particular performer, group, or form of entertainment. It can be in either print form or pdf.
We are planning to make JugZine available in both print and pdf form. Every bit of profit will be donated to the food bank and if enough interest is garnered there will be merch bundles as well.
This will be a SFW zine as the character(s) depicted are almost entirely underage and Jughead himself is asexual. This zine is not going to be representing The CW Show Riverdale.
If you have any questions, feel free to email us at [email protected]! There will be an FAQ page up with time.
Frequently Asked Questions
Coming soon with time!
Artist Applications are closed
Schedule
Applications Open: Sunday, April 5

Applications Close: Saturday, April 25

Fill-In Artist Applications: Saturday, April 25 - Tuesday, June 30

Application Results Sent: Thursday, April 30

Final Ideas Determined: Thursday, May 7

Thumbnails Deadline: Thursday, May 14

Art First Check-In: Sunday, May 31

Art Second Check-In: Sunday, June 14

Final Art Deadline: Tuesday, June 30

Preorders Open: Wednesday, July 22

Preorders Close: Saturday, August 22

Digital Release: Saturday, August 29

Production Period: August - September

Shipping: October/November